HMA Iain Lindsay visits Doherty Hungary Kft
14 June 2016
The new British Ambassador also cheers for Hungary in the European Football Championship
Visiting Doherty Hungary Kft's factory in Oroshaza recently was HMA Iain Lindsay, UK Ambassador who gave the following interview to Oroscafe (local media).  He spoke about Hungarian-UK economic opportunities, the British EU referendum and also the European Football Chamionships.
Jim Doherty, owner of Doherty Hungary Kft invited Iain Lindsay to visit the factory on June 3rd, in Oroshaza. The British owned company was delighted that just a few weeks after his inauguration, the Ambassador found time in his schedule to visit them.
Iain Lindsay amazed everyone when after just few weeks in our country he presented a welcome video, speaking in Hungarian. Soon after this he recited a poem by Attila Jozsef on the National Poetry Day – in Hungarian. He had taken a seven-month intensive language course, initially in London, then in Pecs and finally in Debrecen in anticipation of his ambassadorial posting. This is a requirement of all ambassadors, that they must learn the language of the host country. Iain Lindsay demonstrated his acquisition of Hungarian as we posed questions to him, which he answered in English.
After meeting with the management team, he was shown around the factory floor. He showed great interest in everything, frequently stopping for a long time at various work stations, where Jim Doherty explained precisely each of the processes. After the factory tour, we learned that this was not merely a courtesy visit, but covered serious objectives for the Ambassador. We talked about those goals.
The original video of the interview is given below, (Hungarian) otherwise please read on for English translation.
I was wondering what made Doherty's so successful
You have only been Ambassador for a few months, so it is early to be touring round the country. However in a recent trip you chose to visit Oroshaza?
- I came to see Doherty Hungary Kft. This is a very successful company, founded by a British entrepreneur, who at the end of the 1990s began the company in Oroshaza. Starting with just 10 employees, they now employ 200 people, manufacturing high-quality components for large, global organisations. I am interested in how this business, with British roots, became so successful in Oroshaza.
Doherty's is a British company. How does such a company achieve an Ambassadorial visit?
- I think that the fact that the British Ambassador came here, and being curious in the work they are doing, gives an important signal to them. Both myself and the British Embassy have a real interest in seeing and understanding how they achieve their goals. My predecessor opened the new Production Hall here a few years ago, and it is very important to me, and to Doherty's, that the relationship between the British Embassy and them continues.
In an ealier interview, you have said that an important part of your role is to search for potential business opportunities. What exactly does that mean, and what opportunities do you see for example, at Doherty's?
- I would like to see more British companies exporting to Hungary, more British businesses to be expanding, and want to develop their business in Hungary. I believe that Hungary is a fantastic place with many advantages like Britain.
Your country has many advantages from an investment point of view. It is very interesting to listen to Jim Doherty and senior colleagues to understand what makes them so successful; if you like – what is the secret of their success? Understanding this is important to me in helping other UK businesses who want to expand into Hungary.
After 10 weeks in Budapest this is a key goal for me, to strengthen economic relations. So I wanted to get answers to what makes a successful foreign investor in Hungary.
The British decide: leave or stay as members of the EU
Can we talk a little about the current issues facing British people: to leave or not to leave the European Union? Many people interviewed are in favour of staying in. What are your views, barely 3 weeks before the vote, the chances of "yes"?
- Unfortunately I cannot answer this question, because we have a one-month period before the vote where any government or public-sector stakeholders, which include Ambassadors, cannot express their views publically. This law guarantees that the referendum process is fair. The government has it is own position as to why Britain should stay in the EU. This has become a matter of a "get behind" pro-campaign. The British people will take their decision on June 23.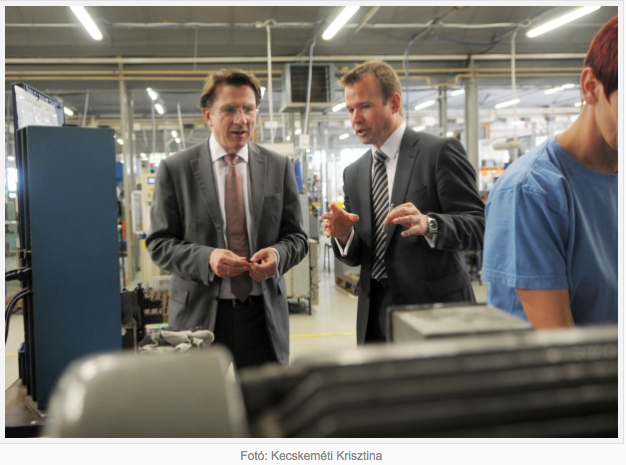 How much influence does the British-Hungarian relations – economic, political, social affairs – have on the British EU membership. What will happen if 'NO's win? I ask this because a Brexit will likely have a seriously negative affect on Doherty.
- The law also prohibits talking about consequences of any outcome, so unfortunately I cannot comment on this.
It seems that I am a Loki supporter
You have a reputation of being a big football fan, you have already watched some live matches in Hungary.
- When I was studying in Debrecen, I went twice to the fantastic Nagyerdei stadium in Debrecen and it seems that I am a 'Loki' fan. And when I arrived in Budapest, in April I went to Felcsút where there is also an incredibly beautiful, amazing stadium. Here, I learned that this stadium was elected as one of the world's most attractive stadium. Yes, I love football, I am delighted that Hungary is taking part in the European Championships in France, I wish your team every success. As British Ambassador, of course, I will cheer for England, Wales, Northern Ireland as well as Hungary. Also, my wife is a Irish Londoner so I will support Ireland as well. The only country I cannot cheer for, because they are not there in Euro2016, is my own country, Scotland. But, Go Hungary!
With a few days to go until the start of the football tournament, we Hungarians are finally playing in an international competition after several decades. Do you think Hungary can advance through the group?
- I sincerely hope they play well. Hungary has a big football tradition, going back to 1950s, to Ferenc Puskas, to the great team of the middle of that decade. Indeed, I hope Hungary will do well as it has traditionally been a strong football nation. I am confident that they will able to get through their group, this would be a great success. I also hope that we will soon see, once again, the Hungarian club teams playing better in Europe.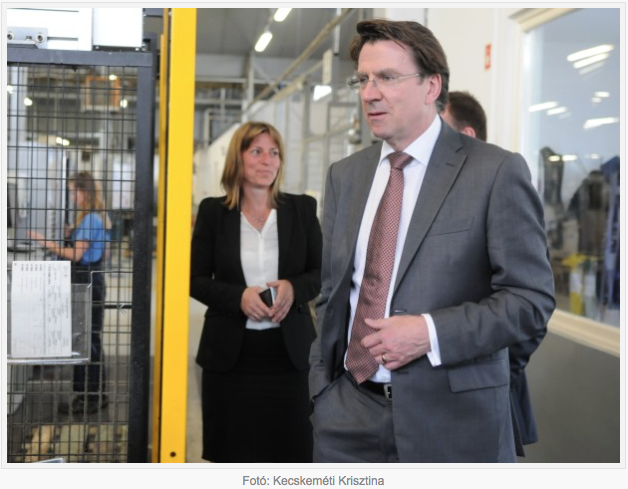 And what about the English? Will they be able to overcome their history and achieve outstanding results?
- I don't know. I hope they do well. But as I said earlier I am confident that England, Wales and Northern Ireland – all 3 British teams – will be successful. It is especially a big question for Wales and Northern Ireland, as they are both very small countries. They have some good individual players but for a long time did not qualify for the European Championship. They have a great opportunity now. There have been famous players, such as George Best and Ryan Giggs but they have never had the chance to play in an international tournament. But there is an opportunity now. That is why I am delighted that they are there, it means a lot to them. Everyone expects England to be there, so we will see what happens.
You will watch Hungarian matches in a Scottish pub in Budapest
After the Hungarian welcome video and the the József Attila poem, are you planning any new surprises for us? Maybe, a common match watching with the Hungarian fans? Or do you have already plans where to watch the games?
- Of course, there is a Scottish pub in Budapest, a very nice pub, with a great atmosphere, so I am looking forward to beginning the tournament. I hope that I will watch the 3 Hungarian games in that pub, there is the best to watch football, the atmosphere is good and there is an excellent company. It will be very exciting. There will be total 24 teams, obviously I will be not able to watch all of them as I have a lot of work to do in June. But what is certain is that I will be in a good pub and cheer for Hungary.