As a specialist shaft manufacturer Doherty Hungary can produce precision shafts with a diameter of 6 mm to 32mm and a length of 250 mm.
The following variants can be produced:
Steel shafts
Stainless steel shafts
Turned shafts
Ground shafts
Splined shafts
Gear cut shafts
Heat treated shafts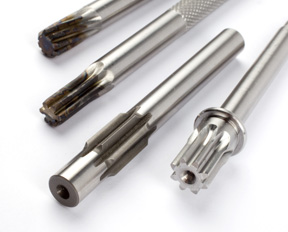 Our precision engineered shafts are produced in accordance with customer specification and design.
At the feasibility stage we like to work closely with our customers to ensure the design is optimised in terms of production stability, quality control and minimising cost. Our core production skills and equipment enable us to turn, grind, gear cut, heat treat and spline roll or knurl all under one roof. This brings control and cost advantages.
We produce medium to high volume (50,000 to 2,000,000 per annum) quantities of shafts for the automotive, home appliance and power tools sectors. The shafts become the heart of our customer's electric motors and have applications in many areas including: power steering for cars; power for ebikes; vacuum cleaner motors; washing machine motors; dish washer motors; power tool motors.
Please feel free to contact us to discuss any requirements you may have. We look forward to working with you to provide you with cost-effective solutions.