The precision Spindles manufactured at Doherty Hungary Kft are between 6mm and 32mm in diameter and 250mm in length.
The following variants can be produced:
Steel spindles
Stainless steel spindles
Turned spindles
Ground spindles
Splined spindles
Gear cut spindles
Heat treated spindles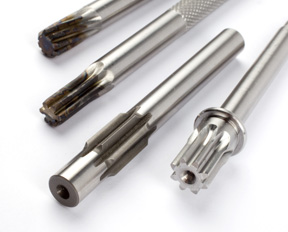 Doherty Hungary Kft specialises in the manufacture of Electric Motor Spindles.
While the shaft is the central and first component of an electric motor, which transmits torque and rotation, the spindle is the rotating axis of a machine [tool], which often has a shaft at its heart, that delivers the rotational power from the motor to, for example the chuck and drill bit on a power tool.
Our customers have precision spindles from Doherty Hungary Kft on products such as Chainsaws, Jigsaws, hedge trimmers, drills etc.
Please feel free to contact us to discuss any requirements you may have. We look forward to working with you to provide you with cost-effective solutions.