Inspiring Future Engineers? We hope so.
22 November 2017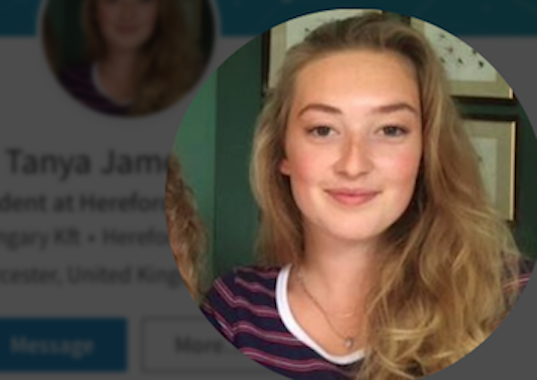 Meaningful and 'real' work experience is vital to young people when considering their future careers. Tanya James, Year 13 pupil at Hereford Sixth Form College wrote to us to ask if she could carry out some work experience at the factory. In July this year, she came to Oroshaza for two weeks. Here's how she got on.....
How did you set up your work experience with DH?
I was looking for an engineering company to do work experience with as I'm going study engineering at Bristol University, in the UK.  I really wanted to mix my interest in travelling with my interest in engineering. I found DH website, and their contact details online. I sent them an email with my CV and cover letter attached during the Christmas holidays of my final year at school. They replied a month later offering me a project. Over the following 3 months we corresponded regularly organizing what my role might be, my travel and accommodation. The company generously covered and organized the hostel, whilst I covered the flights.

What difficulties did you face in pulling it all together?
I wasn't sure what to ask as this was my first time at trying to coordinate some relevant, career focussed work. DH answered my questions but it was apparent that there wasn't an organized scheme already in place - DH offer vocational training to Hungarian students but nothing structured for foreign students - so I was worried that we might have forgotten something. I also found it hard understanding what I'd be doing from what they had told me via email. Especially as I had never worked in a factory before so I didn't know how things worked and what jobs there would be available.

How valuable do you think doing your work experience in an European environment has been to your future career?
Extremely valuable; in any applications since (both to do with engineering and not) it has always been the first thing I have been asked about, and I always have lots to talk about it.

Do you speak Hungarian and, if not, how hard was it to work with so many people who didn't speak English?
It was difficult! I don't speak any Hungarian and so I communicated a lot via google translate, especially in the hostel where no one could speak a word of English. In the factory there were a couple of people who could speak English to me, and I was extremely grateful. They often would translate conversations for me so I didn't feel left out. I found it hard to do the project at first because the people in the factory couldn't explain to me what they wanted me to do, but I soon realized what I could do to help, and got on with it.

So what did you do while you with DH?
I was responsible for the preventive maintenance plans for all 70 machines. I collected the data from the manuals, and information from the operators and engineers to produce maintenance plan for each machine. This was a preparatory task before launching the Total Production Maintenance (TPM) plan in the factory.

What benefits did you get from doing your Work Experience with us?
I was able to see what engineering was like in industry. I liked seeing how my physics A level was put to use in a factory.  The staff at DH took me seriously and treated me like an employee, giving me lots of responsibility and often asking for my advice. My placement at DH has given me a lot more confidence about my future in the world of work.

Did it challenge any of your expectations of a production environment?
I had zero expectations, I had absolutely no idea what I was in for. I have never done anything similar, but I have always wanted to study Engineering so having the opportunity to experience it was brilliant as it confirmed that this is the right route for me to take.

Did anything surprise you?
I was surprised with how many different machines were involved in making one product. I was also surprised with how clean everything was, and how little wastage the factory had.

Did anything disappoint you?
I was slightly disappointed with the hostel, I had imagined being in the center of town, allowing me to explore Oroshaza, and in my free time hopefully meeting other locals my age. However, the hostel was a drive away from the factory and not near anything. Getting decent food was difficult as I needed a car to get to a local supermarket. Luckily the people I got to know at the factory were lovely and would drive me to the supermarket to get food. Overall, though I really enjoyed the challenges both at work and in just having to cope in a completely new, and different, environment. 
From a company perspective Jim Doherty comments:
'Whilst it was quite difficult logistically to set up the placement we were ultimately really pleased with the results. Our aim was to collect and then upload all our machine maintenance plans/work instructions onto our new production management system. We would then be able to plan Maintenance downtime into the production schedule and have all the relevant instructions on line for quick and easy reference.
The biggest challenge, as always, is getting people to do things differently. We all knew the benefits of the outcome but making the transition is not easy. Once Tanya had cleared with her immediate team what she was trying to achieve she pulled all the information together and was well supported. We had several meetings with the Production and Continuous Improvement teams and then in the end, one day before Tanya left we had the final kick-off and distribution of actions to the permanent employees.
It worked. We now have a robust TPM system running and all maintenance work is planned in advance in our planning system and also on a noticeboard in the factory.
We just needed that extra outside resource to do the groundwork and push the initiative along, and that is what we got from Tanya. It was brave of her to decide to come to Oroshaza but in the end the placement worked well and was mutually rewarding.'